Garage Gym Roots
CrossFit Palo Alto started in a garage in October of 2009 with 2 members. In true startup fashion, we have grown in stages to what we refer to as CFPA 4.0. We are now located in a beautiful 6,000 square foot facility with ample room for training and community activities.
CFPA provides clients with a personal training experience in a group setting while delivering comprehensive health and fitness programming. With experience in training National level athletes, ultra-marathon runners of 50 and 100 mile races, elite SWAT Team members, software engineers, at-home moms and grandparents, we have developed a fitness program that is second to none and accessible to all.
We provide a general conditioning program that includes injury prevention training and coaching. Our focus is a core strength and conditioning program that is constantly varied to keep your attention and to get results.
CrossFit Level 2 Trainer holding a myriad of additional training certificates. Tim has a real passion for developing each and every person with a low-tech/high-concept approach where the methods may be "simple" but the results have a depth and breadth that can be explored for years. Tim's 40+ years of experience as an athlete includes collegiate sports (football, soccer) and semi-pro rugby in New Zealand, South Africa, Ireland and throughout the United States. History as a police officer, construction worker, warehouseman and office worker has given Tim a broad base of understanding to relate to the needs of every member. As a Masters Athlete, Tim competed in The CrossFit Games in 2017, 2018 and 2021 where he finished 7th, 8th and 7th in the world, respectively.
An active lifestyle enthusiast and lover of anything outdoors, Rebecca strives to help others move their body in a way they enjoy and that serves the purpose of living fuller, healthier lives outside of the gym! Rebecca has CrossFit Level 1, CrossFit Kids, and USA Weightlifting Level 1 credentials.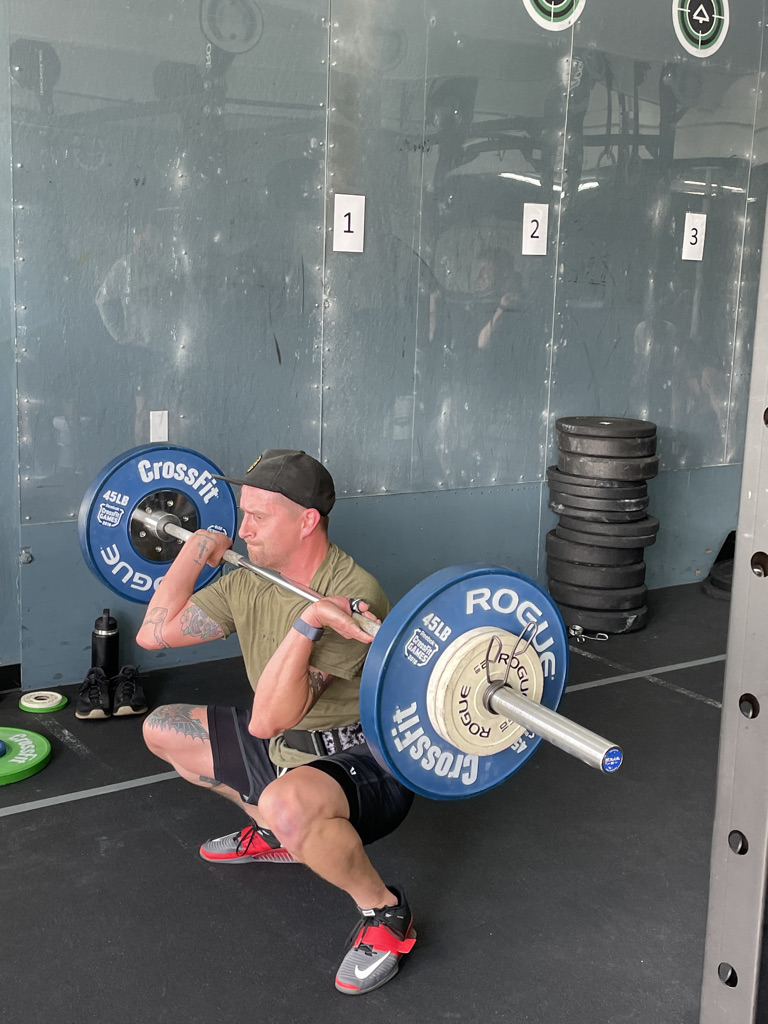 I started CrossFit with the intention of reversing my Pre-Diabetes diagnosis and taking control of my own health. Over eight years later, CrossFit has now become my means to physical freedom; the ability to say yes to any physical challenge or activity regardless of my experience. Outside of the gym I use my fitness to play golf, hike, backpack and run the occasional 10k.
Carrie Lee walked into CrossFit Palo Alto in January 2015 at the age of 55. She left her ego and fear at the door and has never looked back. She has achieved things that she never thought possible like deadlifting 220 lbs. Carrie Lee is humble and grateful every day to be a part of a community that supports, encourages, teaches and affects change. Now, Carrie Lee is a CrossFit Level 1 trainer and wants to share her transformation story with other "seniors". She doesn't just want to inspire others, she wants to be the one to transmit the message and skills it takes for their own transformation. She has been around sports her whole life, from swimming to softball, soccer to martial arts, water skiing to snow skiing, golf to scuba diving and now CrossFit. She has taught swimming to newborns, moms, kids and even a 78 year old grandma that wanted to put her toes in the ocean on her first trip to Hawaii. She has coached softball, baseball and led water exercise programs for seniors.
KJ joined a CrossFit gym in Philadelphia in 2018 as a way to get in shape. What she found was a lifestyle shift. CrossFit has taught her patience, goal-setting, and a deep sense of personal commitment. What started out as a way to conquer milestones like deadlift PRs and RX'd workouts is now a way to stay tuned in to her overall fitness and wellness. She's thrilled to join the CFPA family and bring these tools to young people who are new to CrossFit and fitness.
My CrossFit journey started in 2015 when my husband started disappearing for hours everyday to a CrossFit gym, felt like I never saw him anymore! I tried it and loved how much there was to learn, that you could take a lifetime honing your craft. I also enjoy the bonds created when you're doubled over, catching your breath after a tough workout. That's the community part of CrossFit everyone talks about. And, after watching Fittest on Earth: The Story of the 2015 Reebok CrossFit Games, I was hooked. CrossFit is my sport, just like many follow football or soccer. My background is in competitive dance, learned weightlifting from American weightlifting coach Max Aita, and received my L-1 in 2022.
Kristen is a CrossFit Level 1 Trainer that has completed over 20 marathons and numerous ultra-marathons, including Ironman New Zealand and The Leadville 100 mile race. She has been a wildland firefighter, police officer and municipal firefighter. She now excels at being a homeschooling mom to three kids while training for her next event.